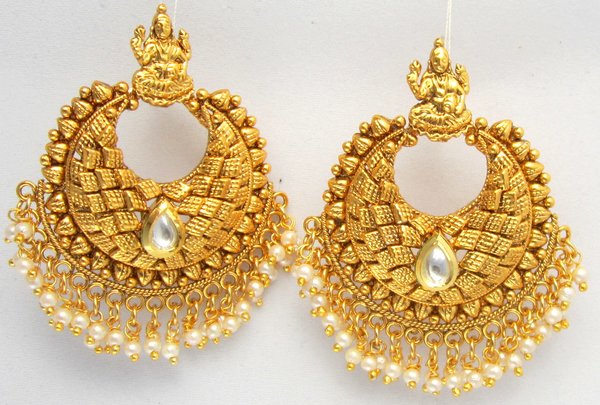 Gold jewellery plays a vital part in every woman's life, as it enhances their appealing look and couple well with any kind of garments. Some common everyday wearing jewellery includes a pair of earrings. Most often gold earrings designs with price are highly preferred for its exclusive art, sparkle and make the face of the wearer appear more beautiful.
All kind of earring designs look the perfect with the face of its wearer of any age. As the earrings are priced lower as well as there are innumerable earrings to choose from, making it simple and easier way to regularly beautify their spellbind face.
Mentioning few highly sellable gold earrings designs:
They are the most common wear ear studs, as they sit perfectly on earlobes, mostly available embedded with small sparkling gem stones.
It is available in all sizes of circular shapes. Hoops of larger diameters dangles, whenever its wearer twists their face, aids in attracting the attention of others. The smaller sized ones are known as Huggies earrings.  Some exclusive pieces have carving designs and few classic hoops have flowers shape designed with valuable stones hanging in the lower part of the hoop earrings.
It is even termed as tear drop earrings. Its two parts are conjoined to form an alluring ear enchanting jewellery item. The upper part is attached to the earlobe and the other part dangles down. The earrings are available in innumerable designs, varied sizes and patterned with all kind of gem stones. Most commonly worn drop earrings have small upper part and the lower part is exclusively finely carved.
The pair of earrings are similar to drop earrings although little bigger in size than the later type. The hanging part is designed in such a way that it always sways and looks dazzling and adding of white stones or diamonds will make it look similar to stars dangling from ears. Some modern pieces upper part is just hooked in the pierced part of ears.
As the name suggests there are multiple layers decorated exclusively with stones, pearls and having gold artistic carvings conjoined together. They are best to worn along with jewellery worn to celebrate any great occasion. It's a favourite jewel item of long neck people.
While buying gold earrings with price tags make sure to look at its back portion for comfortable and convenient wearing.
Know the types of back caps of earrings:
Fish hooks: Its long wire hooked shape helps to adorn the earring in faster way.
Push back: The most common way of fastening earrings. It is suitable to tighten most kinds of earrings.
Screw back: Offers full safety as you screw the front part with the back tightly.
Latch and lever back: Mostly is designed along with hoops earrings.
Whether you buy gold earrings online or from local seller, make sure to know the creditability of the vendor as pair of earrings made of gold is quite costly.